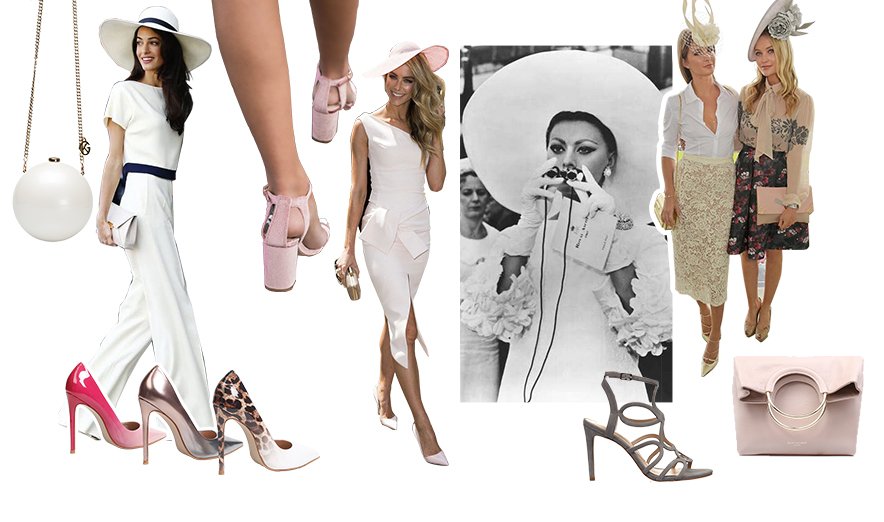 The British summertime calendar is jam-packed full of chic occasions that you might need a posh frock for - weddings, roof garden cocktails, sailing regattas - but there's probably only one event where the dress code might require a hat for you to even be allowed in: horse racing. Going to the races has become more popular than ever, and whether you're headed to Badminton, Epsom or Royal Ascot, knowing what to wear can be baffling! Read on for our top tips on dressing for the races.

Check the dress code
It's worth making sure you know what is and isn't allowed for your particular event. For Ascot's Royal enclosure, you'll need to be wearing a hat that's at least four inches wide (so no fascinators). There's no point spending hours getting ready if you're going to be refused entry when you arrive!

Wear a longer hem...
You might be tempted to wear a shorter skirt (the sun's out! I'll be outside all day! Think of the tan!), but something fitted below the knee like a pencil skirt in a heavy fabric is not only more demure, it's more practical, too. Because outdoors can also mean strong gusts of wind!

...or even trousers
Not all race meets have a dress code, so if they allow it and you fancy wearing something more casual, switch the dress or skirt for a pair of trousers.

Keep your shoes ultra-chic
Think simple and classic when it comes to your racing footwear; we can't imagine anything more fitting than a court. Not only do they always look classy, but they're the most flattering shoe style for your legs, particularly if you are taking our advice from the last two points and are wearing a longer-length hem or trousers.

Invest in a good coat...
For a country where the weather is unkind more often than not, we don't give nearly enough thought to outerwear that's suitable for posh 'dos'. It's really worth having a smart coat in your wardrobe; look for something fitted that falls below the knee in a muted colour, and you can bring it out for weddings and Christmas as well.

...or consider something with sleeves
The fashion world is finally catching on to the fact that we don't always want to have our arms on show, which means there are options galore when it comes to dresses with sleeves. Alternatively, wear a silk blouse or even a sweater with a skirt. You'll feel so smug when everyone else is shivering.

And finally, pack some baby wipes!
There's always the possibility that your shoes are going to get a bit muddy, so go prepared with some wet wipes and you can keep your shoes looking pristine all day long.
Shop Courts