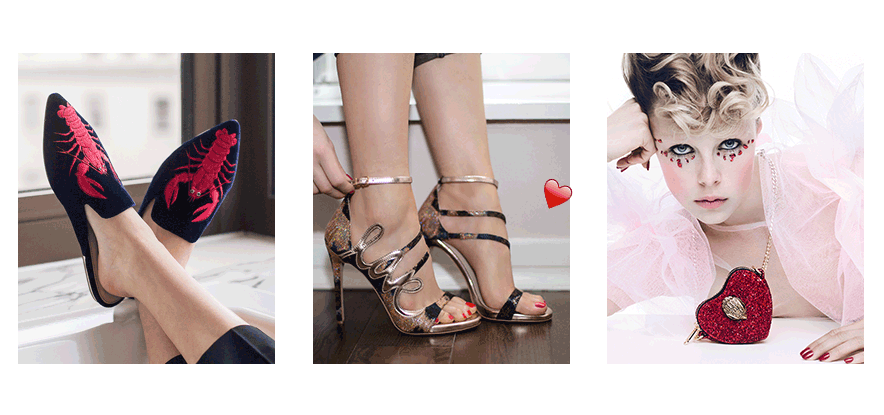 Valentine's Day is just around the corner, and with it comes the relatively new phenomenon of 'Valentine's fashion'. It's like Christmas, but with less glitter. And while we're steering well clear of heart print dresses (because no-one can possibly look as good as Kylie in the video for 1989's Put Your Hand On Your Heart) and T-shirts with the slogan 'forever yours' (it's probably a bit scary to wear that on a first date, let's be honest), we're totally on board with the more subtle trick of wearing romantic accessories.

Oh yes, subtle romantic accessories are officially a thing, and it's not just for February 14th (although if you're going to wear them any day of the year, that's obviously the one to go for). Thanks to love-themed motifs finding their way onto shoes and bags on the catwalk, it's now cool to wear hearts and lips 365 days a year. Not to mention the fact that red and pink are two of the key colours for the season.

The best bit about romantic accessories is that they integrate into your existing wardrobe really REALLY easily. Nothing goes better with denim and a Breton stripe than a flash of scarlett. Your favourite LBD probably needs a little excitement in its life, and looks WAY cooler with some statement motif loafers.



Secret love If you want to make an effort but just can't bear not to wear your comfy boyfriend jeans on a date (well they DO allow room for that delicious Valentine's dinner), pep them up with some gold stilettos. An outfit that says 'I made an effort, but I'm pretty chilled', and isn't that the impression everyone wants to give off? Even better, find a pair of gold stilettos with the word 'love' hidden in the design of the shoe, like Hex. Genius.

Heart-shaped box Here's how to tick two massive trends in one fell swoop: the aforementioned subtly romantic accessory, like the Heart Cross Body bag, seen everywhere on the runway for Spring Summer 2017. How adorable? Don't panic about it being too small either - there's enough room for your keys, cards and cash...because when is your phone ever out of your hand anyway?

"It's a known fact that lobsters fall in love and mate for life" Once Phoebe uttered these words about Ross and Rachel in an episode of Friends, the lobster became THE symbol of love for a generation. So what could be more romantic than a pair of SHOES with lobsters on? 'Otter' is available from March, so make sure you sign up here to be the first to know when they are available. The hardest decision will be figuring out which colour to get…
Shop New Arrivals