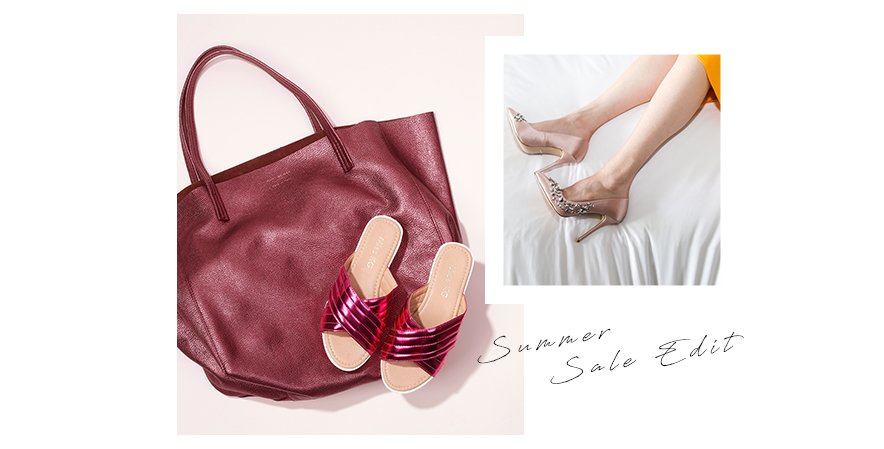 We've got a love-hate relationship with sales. Of course, everyone loves a bargain. Few things feel better than getting your hands on a pair of shoes you've wanted desperately for months, at half the original price. That said, wading through discounts is tough. We want it all! Sequinned pair of wellies anyone? You never know, one day, somehow, somewhere, we might find ourselves at a muddy, celebrity-ridden film premiere. *Add to basket*… 'tis is a slippery slope, that of the sales.


The great thing about sales at this time of year though, is that they kick in just as we're swinging into high summer. It's the stuff you actually need and want to wear, right now, that's up for grabs. Not prepped for your upcoming holiday? Now's the time to shop your sandals, flip-flops and all the rest, for less. Here's how to shop our sale, smart.

For Her

How about getting in on the shoe of the moment? Kurt Geiger have given the classic poolside a jazzy makeover and Miss KG's 'Dee', 'Delaney' and 'Denim' numbers could be yours now with the click of a button. These beauties aren't just for the beach. We're wearing ours with distressed, blue boyfriend jeans and plain white tee's this summer too.

On the handbag front, you can do no wrong with Kurt Geiger London's 'Violet' tote. There's a colour finish for everyone (we'll take one in pink and another in wine, please) and when it comes to getting your hands on a truly luxe, leather handbag, this is proper bargain territory. After something a bit more structured? Carvela's 'Darla' tote is beautifully versatile; ideal for the office paired with ladylike sling-backs or slung over a one shoulder for weekend frolicking.

Let's face it, often it's the shoes we don't necessarily need, that we really want. And now, you can finally justify the purchase. Carvela's 'Ghost' heels are the summer statement-makers that have been teetering on the top of your wish list for months. These feathered fancies are a great investment for sparkly 'dos. Event dressing is expensive. Get ahead of the game and sort your fancy footwear during the sales. If feathers aren't your thing, Miss KG's cut-out 'Flutter' heels are slick, sexy and yours for just £39.

For Him

Sales aren't there to be enjoyed by the girls alone (although we are known to be little more ruthless in our approach!). We've got some great stuff for the guys to get their hands on too. How about something you weren't wholly convinced about at full price but might be more willing to try at a bargain? A men's sandal isn't for the faint hearted. But everyone needs something between a sneaker and a flip-flop to get around town during a heat wave. Enter KG's 'Farnley' sandal; the perfect footwear via which to complete your off-duty summer look. Pair with shorts and a linen shirt and give the woman in your life a sartorial run for her money.

Another way in which to approach the sales is to look ahead. Have a good think about what you might need next season and get it now, for less. KG's 'Cole' Chelsea boots are the epitome of chic, perfect with fitted jeans and a pea coat when things get a bit cooler later this year. The hardest decision will be whether to get them in black or brown (it never hurts to have a little choice in one's wardrobe, just saying).

Investing in a pair of office kicks isn't a bad idea either. After all, you wear them five days a week and you'll give yourself a nice pat on the back when it comes time to replace yours, and a pair of Kirkcaldy's are ready and waiting that you picked up for less than sixty pounds. Prefer a slip-on? KG's 'Devlin' loafers have your name written all over them for the same price.





Kids

Don't let the sales pass you by without picking something up for your little terrors. Partly because we love them, but mainly because they wear their shoes out faster than we care to think about, and surely it wouldn't hurt to get a couple of pairs at cut-price. Our pick for the boys this summer hails from 'Ralph Lauren'. The 'Hanford' low top trainers (available for boys from 18 months-16 years … yes, they really are that good) are cool and comfortable from his perspective, and chic and smart from yours. For those with a bit of a diva on their hands, look no further than Mini Miss KG's 'Mini Knox' brogues or 'Roar' slip ons. The former? A proper kids party shoe – so cool that you may have to splash out on the adult version for yourself later this year (Kim and North always match, right?). Look to the latter for an amazing take on kid's sneakers. We're talking leopard print trainers complete with fluffy pink hair and googley eyes.

Need we say more?

Shop Women's Sale