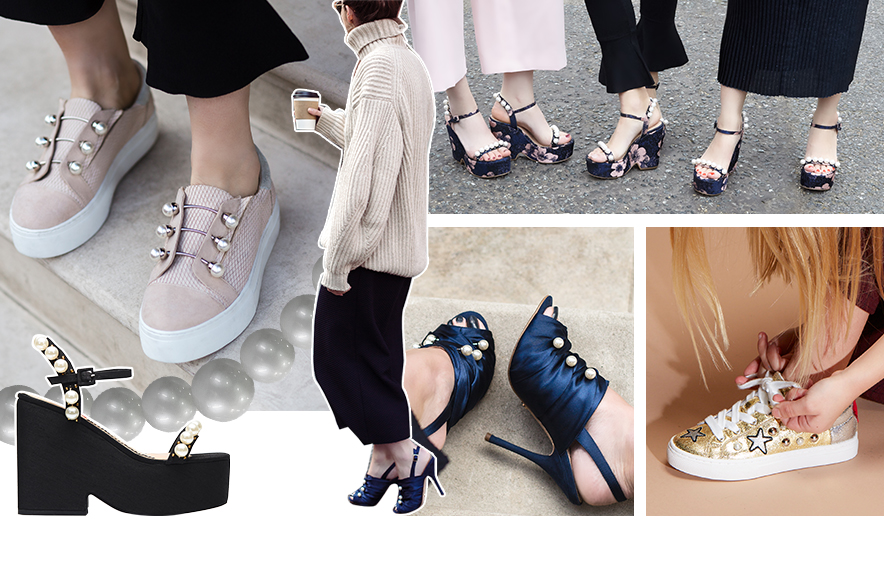 Pearls have always been a status symbol - in the Middle Ages it was actually against the law to wear them unless you were royalty or high nobility! - so we can't think of a better way to up the glam factor of your footwear than by adding some to your shoes. These little white spheres were a massive trend on the catwalk for SS17, and little wonder; they quickly elevate anything from glitzy heels to humble trainers to new heights of high fashion.

The great thing about pearls is that they suit pretty much everyone. In history they've been able to boast such varied fans as the Ancient Egyptians, Queen Elizabeth I and Coco Chanel, and now they're regularly worn with updated cool by Rihanna (she's a HUGE fan - just Google 'Rihanna pearls' and you'll see what we mean!), or with a pretty edge by Emma Watson and Taylor Swift, while keeping their royal credentials intact on the Duchess of Cambridge, of course.

This season, pearls have made their way onto our shoes rather than around our necks or on our ear lobes. Of course, they're the perfect embellishment for a pair of cool platforms like Hettie, a kitten heel boot in fuchsia like Rokka but if casual is more your thing, you can find them blinging up skate shoes, as well as adorning loafers and pool slides and everything in between, so there's really something to suit everyone. And even the littlest member of your family can tick this trend box with the super-fun kids' trainers on offer.

High Glamour
With their silk fabric and pearl details, we think Jem might be the ultimate in dress shoes. Of course, they'd look fab with a cocktail dress as well as with trousers and chunky knitwear. Or try the ultimate juxtaposition by pairing them with boyfriend jeans.

Kick one, pearl one
Replace the laces on your kicks with something WAY more exciting; this clever pearl-adorned mechanism on Orla means these trainers just slip on and off. The nude shade and snake-effect finish give them an extra feminine twist.

Little gems
Come on, admit it; you'd have LOVED a pair of these when you were a kid, and part of you wishes they made them in your size. Loveheart are the coolest trainers in the playground!
Shop Bestsellers