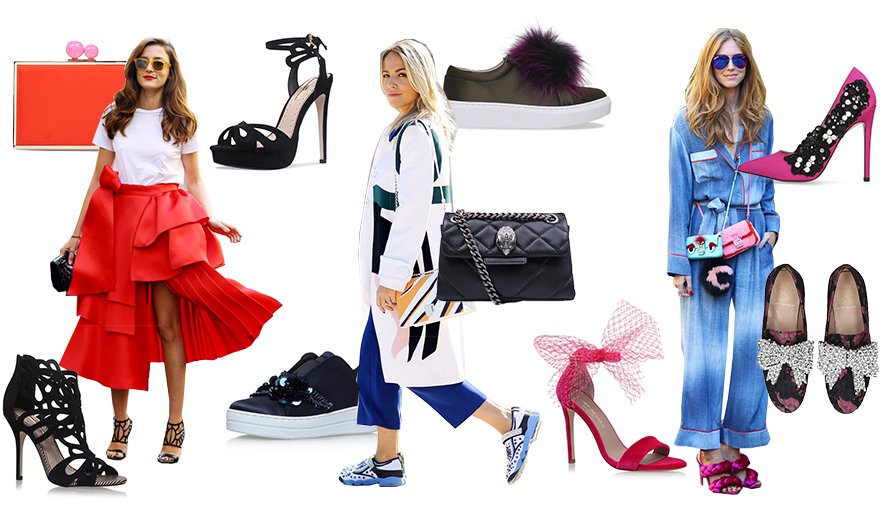 It's all very well shopping with an event in mind. We all need a pair of summer sandals for holiday, trainers for working out (although we may or may not have totally ignored that gym membership we 'invested in' on New Year's Day…) and wellies for Glasto. But what of the things we just, well, want? This week we've decided that, come payday, we're splurging on something we don't necessarily need. Why? Because we all deserve a little treat now and then, and – fact - the best treats come in shoe boxes…
Well-Heeled

We're never not in the market for a new pair of shoes, but as sporadic gifts from you-to-you go, black party heels are actually a pretty good investment. And there are two dreamy styles atop our wish list. First up, Miss KG's 'Flutter' heels. A flirty, fashion-forward take on the strappy black sandal. Dainty and delicate, these are exactly what we're after to dress up our favourite trend of-the-moment: asymmetric hems. Hanky hem skirts are a fun, slightly edgier alternative to evening dresses and we love the idea of wearing ours with a plain white tee, giving way for more of a statement shoe. Perhaps you like something chunkier? Miss KG's 'Fabienne' platforms are ideal for those after a bit of extra height. Seeing as you're doing a black shoe you can have a bit more fun with the handbag. Carvela's 'Gladly' clutch will add a welcome pop of colour to this on point evening look. Go on, you know you want it…

Statement Sneaker

This is not just any sneaker, this is a sneaker with SASS. Yes, sadly you won't be able to justify these by claiming they'll help you win your upcoming tennis tournament, but they're just sort of, maybe, definitely necessary. Statement trainers have been such a hit this season, and the more glitzy, fluffy and furry they are, the better. Just-in are the lovely 'Luxe' sneakers. Armed with a healthy dose of fluff and a soft satin finish, these are just what you need to jazz up an off-duty weekend look. By night, pair an LBD with Kurt Geiger London's 'Loop' slip-ons. The sequin embellishment boasts a real party feel, and you can wave goodbye to Sunday morning stiletto stiffness. Oh, and by the way, the 'Mini Leather Kensington' cross body has just enough room for your evening essentials. Just saying.

Think Pink

If you haven't had a chance, or quite enough cash, to buy into the colour of the season, now's the time. Pink hasn't been this cool since 1986 when women everywhere spent every last penny trying to look like Molly Ringwald as Andie Walsh. If you're a stiletto-devotee, get in on the trend via KG Kurt Geiger's 'Bounty' heels. These are what we like to call conversation-starter shoes. Pair with all black and let your tootsies do the talking. Looking for something summery? We are only slightly (horribly) obsessed with Kurt Geiger London's hot pink 'Suzette' sandals. Sky high and built for maximum fashion impact, pair them with an a-line skirt or cropped flares to show off that fabulous netted bow.

Now, deep breath…

Aaaaaand SHOP!
Shop New In