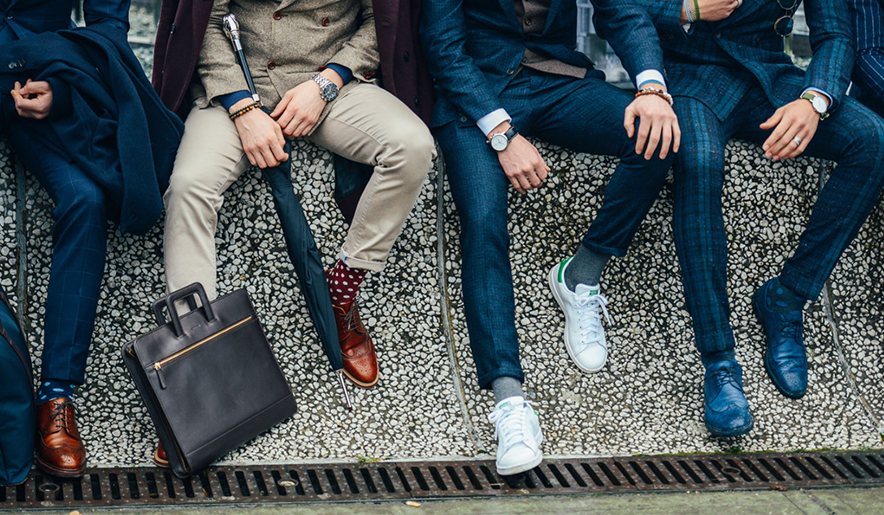 Women are twice as likely to judge men by their shoes as men are of women. It's true! There have been surveys published and everything. While you might not even remember any details about the shoes your last date was wearing (maybe a black heel-y thing? Or were they flat?), your footwear is pretty much the first thing a lady logs when she sees you. Well, after your face, obvs. Go on, ask the next woman you see: has she ever arrived on a date and had second thoughts after seeing the guy in question wearing dodgy square toed slip-ons teamed with bootcut jeans? Told you.

So now you know, there's no excuse for not wearing really great shoes on your Valentine's Day date (and yes, this counts even if it's not your first date; she might be having a wobble after those grubby trainers you wore last time you met up). They don't have to be expensive. They don't even have to be new. But they do need to be considered. Here are our top tips for wowing women from the feet up.

*Don't panic by wearing a really dressy pair of shoes if the occasion doesn't call for it. You'll feel uncomfortable and, unless you're also wearing a suit (unlikely, let's face it), black shiny Oxfords will look weird with your jeans. Save them for a wedding and instead, try a more casual brogue with a matt finish in tan or black; they'll suit your usual get-up much more subtly.



*For heaven's sake, make sure your shoes are CLEAN! Every dapper man should have a shoe cleaning kit with neutral polish, a suede brush (you'd be amazed what these can do, even to post-rain suede), suede protector spray and, easiest of all, baby wipes. These will clean the dirt off soles and are your best friend when it comes to white sneakers. Which brings us to…

*It's totally fine to wear trainers on a date, but they need to be appropriate for the venue and worn with the right strides. No tracksuit bottoms, and definitely no shorts and socks (guys, it's FEBRUARY! And we'd always suggest long trousers on a first date, regardless of the weather. You're not 8 years-old. Though we will allow mankles). Selvedge jeans and a grey cashmere sweater will do nicely if it's a pub grub date.

*Remember to show off your shoes. Now you've gone to all this effort, it would be tragic to hide them under the scruffy frayed edges of those jeans you've had since you were a fresher. Opt for a straight leg as it sits on the shoe more neatly, and try a turn-up to really make them a focal point, although at this stage you'll also have to give your socks serious consideration. Skinny navy and white stripes or a bold colour like red show you've made an effort without being too whacky.
Shop Men's New Arrivals