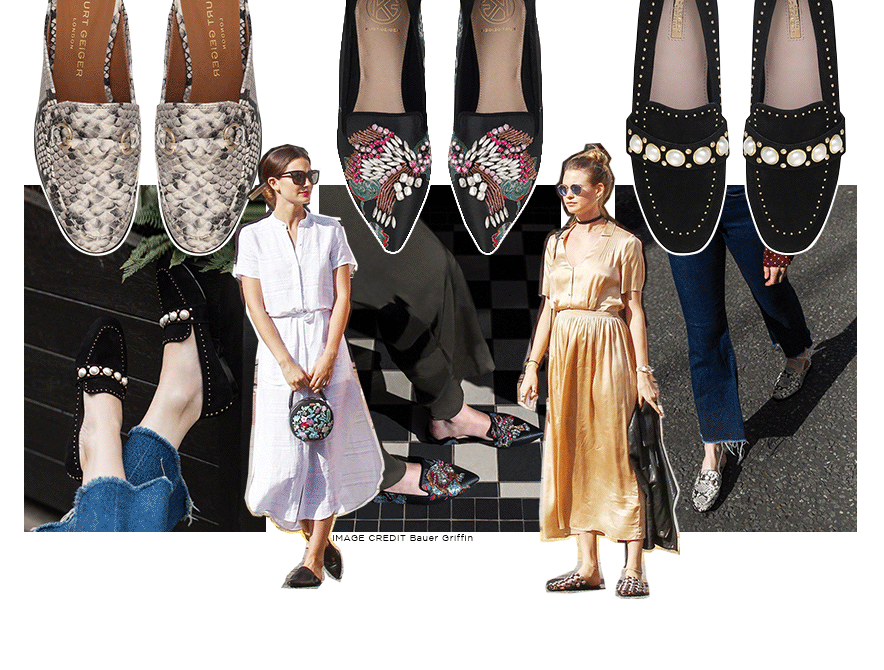 If you're anything like us, you're already fully on board with the idea of loafers. They superseded your trusty brogues last year as a more flattering boyish trend and are your go-to shoe to pair with jeans, pencil skirts, and everything in between. Oh, and you can just slip them on and off - they don't even require lacing up! Ideal for your busy lifestyle.

Loafers have been a huge trend on the catwalk, but an even bigger one off it, with street style stars struggling to bring themselves to wear heels when this comfy option is available to them. More dressed up than trainers, and with a hint of geek-chic cool, they're the perfect shoe to wear when you're dashing about but still need to look well put together. What's not to love about that?

For SS17, loafers have gone next level, with luxe details galore that elevate them from chic basics to a real look-at-me statement. In some cases, they've also gone backless, revealing this season's top erogenous zone - the ankle - to full effect (NB don't forget to keep your heels and feet in top condition with a good buff and moisturise!). So whether you're into embroidery, metallic fabrics, or studs and pearls, make sure your loafers are luxed up to the max this summer.

Diamonds and pearls With their suede finish and those bling-tactic pearls and studs, the 'Leighton' loafers might look pretty regal, but they're still the perfect partner for your blue jeans. Juxtapose their smart, snazzy style with rough, frayed edges for the ultimate in laid back cool.

Snake style We love the masculine vibe of these snake-effect 'Dusk' loafers, but with their backless design they're incredibly sexy, too. For an alternative evening look, swap the jeans for a floor-length black jersey dress. And make that backless too, of course.

Haberdasher chic Beautiful shoes are the name of the game this summer, so look for embroidered designs that would look at home on the back of a swish silk robe, like 'Opal'. Flora and fauna patterns in bright colours work particularly well with this look. Then, pretend you live in warmer climes and team with light, loose trousers; this is also the perfect look for your holiday.
Shop Flats