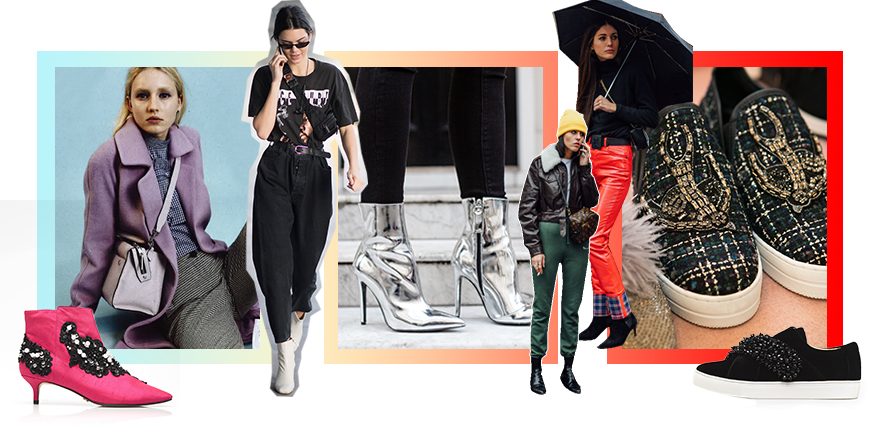 It's a funny old thing, the British weather. At this time of year, you're quite likely to get four seasons in one day (to quote Prince, sometimes it snows in April). How are we supposed to deal with sun, snow, rain and wind all at once and still look great? Well, it might sound obvious, but start with checking the weather BEFORE you get dressed (come on, admit you hardly ever do it!). There's no such thing as the wrong clothes, just the wrong clothes for the weather you find yourself in. Then, stick to a few easy rules, and you'll always feel smug...come rain or shine…Simple.

It's not bare ankles weather until it's 13 degrees...
Don't get over excited at the sight of some sunshine! There's still a chill in the air, and unless you're not actually going to spend any time outside (i.e. you work from home), it's still not quite warm enough to get your ankles out until the mercury hits 13. Shivering is just not chic - your socks and ankle boots are still your best friends!

...and 17 degrees for bare legs weather
You can probably get away with bare legs at this temperature provided you are wearing enclosed shoes - trainers are ideal for teaming with a skirt - but if you're wearing sandals too we'd advise waiting until the early twenties or you might regret it. Wearing those sandals with jeans though? Take it back down to 16 and you'll be fine.

Don't forget about the wind!
Another early spring error that's easy to make, is forgetting that it gets pretty blustery. It might be warm enough to get your legs out, but choose your skirt carefully. Anything too floaty and summery could waft up at the merest hint of a gust of wind, so look for stiff, heavy fabrics instead. If you're unsure, there is even an app dedicated to the subject called Skirt Alert. Handy!

Spring handbag essentials
Once you've got your outfit sorted, it's worth remembering that everything could change. Use a bag big enough to fit in an umbrella/pac-a-mac, sunglasses (never forget these!), spare socks and a lightweight scarf that can double as a cosy wrap. It might sound over-cautious, but you'll be happy you did when the weather catches everyone else out!