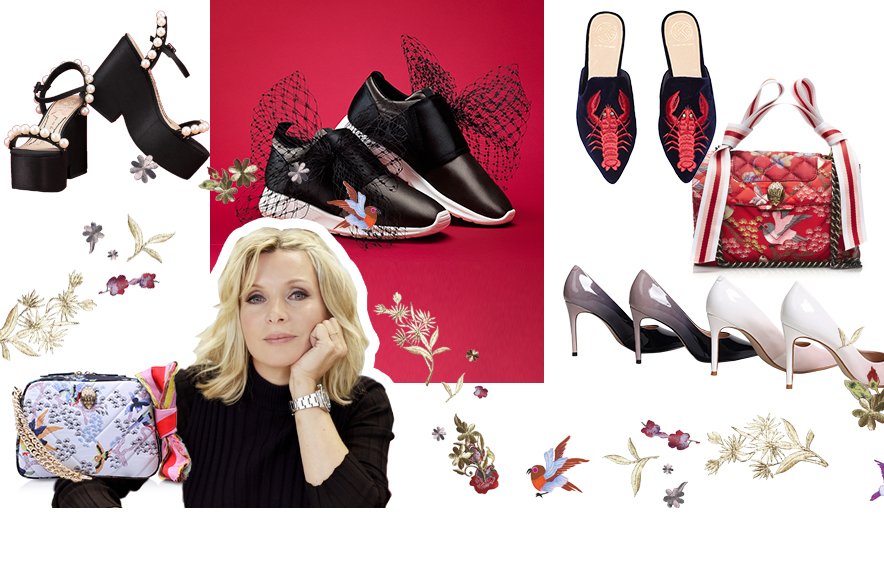 We caught up with our Creative Director, Rebecca Farrar-Hockley, to chat summer trends, being a Creative Director, and how she stores her collection of 500 pairs...

So you're a Creative Director - that sounds like the dream job! How did you get to where you are today?
RFH : With a lot of determination and hard work. My ethos is if you can, do something you are truly passionate about and love for a living. I have always been drawn to accessories because they can make or break an outfit! I started out on the shop floor, as many do in this industry. I was lucky enough to start my career at Selfridges, where the energy and buzz was infectious. I worked hard, listened and learnt a lot in my eleven years there, steadily progressing up the chain, and was Head Of Buying for all accessories by the time I left.

Can you describe a typical working day for you? Or is there no such thing?!
RFH : It varies every day, but this is what I love about my job the most. I oversee the creative vision and direction for the brand; this can range from a trade meeting with my buying and design team or a catch up with the kurtgeiger.com team, to a meeting updating me on what pieces of the collection the fashion editors are calling in or what is happening in the world of Kurt Geiger across our social platforms. I might finish the day with an evening dinner with one of our retail partners like Harrods or Selfridges.

Where do you get inspiration for your designs?
RFH : Everywhere! I'm always looking at fashion, art, design, interior design, architecture, the news for inspiration. As a fashion addict at heart I'm always interested in what the trends are, and then how we can translate these trends to our customers with our own personal Kurt Geiger spin. Ultimately, we want to create designs that will stand the test of time and be loved for years to come.

How does it feel to see people wearing your designs?
RFH : It's great. Recently we had Angelina Jolie in London wearing our iconic Kurt Geiger London classic 'Britton' nude court shoe. We've also had Kendall Jenner sporting our KG white 'Strut' boots for the past four months across New York, Paris and then again at Coachella. It's a real buzz for my team to see globally recognised and coveted celebrities in our products, but the cherry on top is that these styles are available and affordable to all.

Tell us about the new season from Kurt Geiger - what are your favourite trends this summer?
RFH : I love the Spring Summer collection! There were so many wonderful trends we had a lot of fun with, like pearls adorning backless slippers, fashion sneakers, platform wedges and ladylike handbags. We also really invested in oriental prints and translated a beautiful bird print across our Kurt Geiger London handbags - our best-selling 'Kensington' and 'Plum' bags have now become household names and sold out three times over!

You must have LOADS of pairs of shoes; do you have any idea how many or have you lost count now?!
RFH: I can't believe I am telling you this, but it must be around 500 pairs. I guess I could say it's part of my research… but the truth is I love shoes and have been collecting them for a long time. I have a huge selection in the office, and it's often the case that my team and I will wear our most coveted new season styles all on the same day. Just last week there were seven out of ten of us in our new KG 'Otter' backless mules! At home, it's almost akin to a shoe library and yes, they DO have their own room – again for research... or so I try to convince my husband!

And is it possible to have a favourite pair…?
RFH : Absolutely! Shoes are like friends, they see you through all sorts of dramas! I'm an avid platform girl, I love them, they instantly give me extra height in a dress or jumpsuit. I'm wearing KG 'Hettie' at the moment, they are elegant and tick the pearl trend effortlessly. I also love a backless slipper for summer or a good slider. I've been wearing the Kurt Geiger London 'Bloom' slider for the last month regardless of the weather!

What shoes are you wearing right now?
RFH : I've got a day of business meetings and have on the new Carvela 'Alison' pumps. They're a spin on the classic court shoe in an ombre patent leather with a mid-heel height of 90mm. This shoe can see you through the day and straight into evening, no need to carry a change of shoes!

If we could only have three pairs of shoes in our wardrobes for the rest of our lives (NIGHTMARE!), what styles would you recommend and why?
RFH: First, a fashion sneaker. If you have to run around you may as well do it in style. Try our brand new Pre-Fall Kurt Geiger London 'Letty' runners in elegant khaki or navy satin. Next, a trusty wedge – comfortable for day and easy to dress up for night. For Spring Summer I'd suggest the KG 'Mimi' espadrille wedges. Finally, a sensible shoe like the new Carvela 'Alison' and 'Alice' courts – the most fashionable sensible shoe you will ever need!
Shop New Arrivals