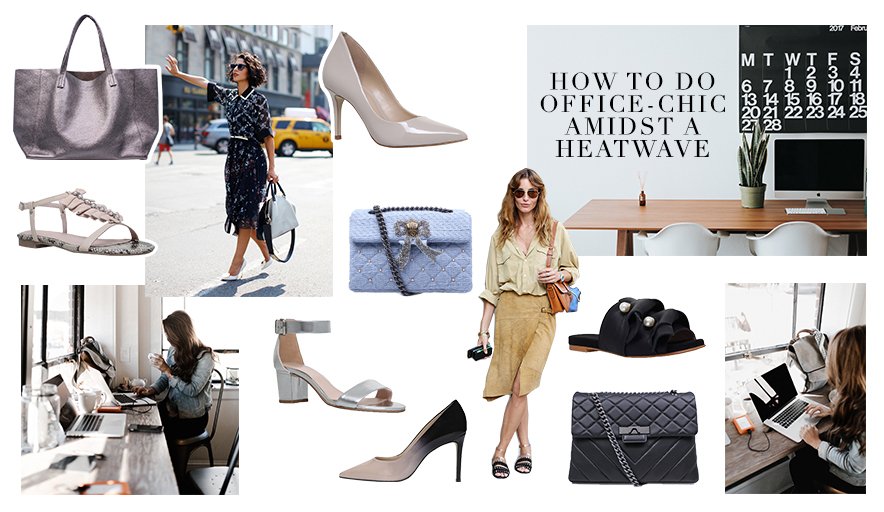 When it comes to the weather, the UK tends not to do things by halves. For most of the year, rain pours by the bucket load and we find ourselves constantly on the alert for our next pair of winter boots. And then come the balmy weeks of late June, July and August, where temperatures can, and have, reach scorching heights. We can all relate to arduous days spent trying to stay cool in the office. The air con's kaput. Everyone's suddenly invested in (and won't share) their own personal desk fan and all you can do is sit tight and pray you make it until 6pm without melting through your midi dress. We Brits are truly awful at coping with the heat and, sartorially, need all the help we can get. Here's to making sense of summer work wear.

Holding Court

If you're a high-flyer who relies on slick court shoes for a sophisticated, professional look, this isn't going to change come summer. Although it is time to swap your classic black pair for leg-elongating nude. Not only are they super flattering, they'll also instantly brighten up your office get-up, particularly if you are someone who tends to wear a lot of black (…guilty). Pair KG Kurt Geiger's 'Bella' or Carvela's 'Alison' courts with a short-sleeved shirt dress to stay cool and collected. Come home time, change into a comfy pair of flats and slip your heels into Kurt Gieger London's 'Violet Horizontal tote' – stylish enough to be used as your everyday work bag but also roomy enough to carry every woman's office essentials: spare shoes!

Flat Out

Perhaps you're someone who wouldn't dream of wearing heels to work, particularly when it's 30+ degrees outside. We hear you… don't get us started on those sweltering work commutes! Now, it doesn't matter what you do or where you work, flip-flops are not office attire. Period. But there are plenty of summer flats that are office-friendly. A carefully styled sandal (KG Kurt Geiger's 'Napa' beauties are our favourites) can be seriously chic when paired with a knee length skirt and linen shirt. The 'Naomi' slides are another work wear win. They give the illusion of a dressy shoe thanks to the pearl embellishment, when, in reality, they're just a comfy slip-on sandal. The latter are ideal for any minimalists out there who will be relying on loose separates and draped dresses this summer. Complete your look with Kurt Geiger London's 'Leather LG Kensington bag'.

Sandal Smart

Some of you will be after something that lies somewhere in between the above two options. Your work calls for the elegance and sophistication of a heel but you crave the comfort and ease of a summer slide. Enter the metallic heeled sandal, specifically Carvela's 'Krisp' or 'Governor' designs. Armed with a low heel and ankle strap, they put comfort first, but due to the shiny finish they have that extra something, bound to elevate any look. These can be worn with everything from mid-length printed dresses and skirts to loose, tailored trousers. Come six o'clock, simply add a pair of statement earrings and swap your office tote for Kurt Geiger London's 'Tweed Kensington bag', et voila, just like that you're glammed up for post-work cocktails.

Shop Heeled Sandals