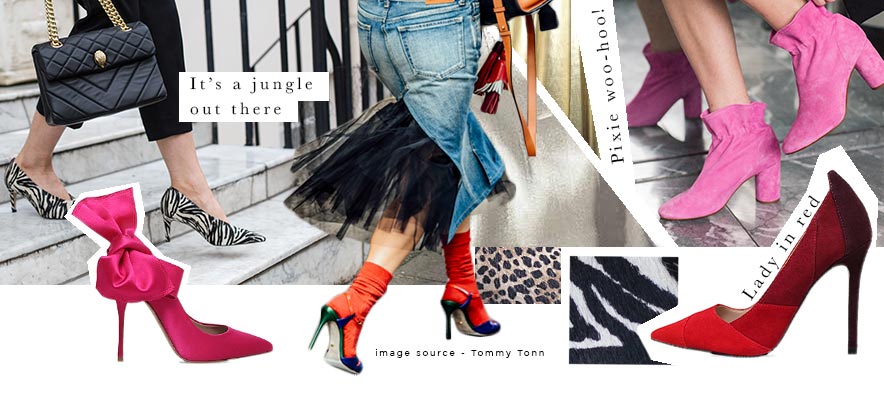 Every season at London, New York, Milan and Paris fashion weeks, there's a flashback to one decade in particular. It's like the designers all meet up before they start work on their collections and watch a load of films and listen to music from a certain era for inspiration before they put pencil to paper (they don't of course, but it's a nice thought, right?!).

For summer 2017, we're imagining the world's top names in fashion brainstormed their collections while binge watching Mannequin and Pretty In Pink while enjoying a soundtrack of The Bangles, Kim Wilde and Culture Club. Because you've guessed it: get ready for perms, pixie boots and power dressing. The Eighties are back, big time.

Before you panic though, let us reassure you that you don't need to dash out and buy a shell suit and a year's supply of legwarmers; SS17's Eighties vibe is subtle and sexy, and is focussed mainly on colours, textures and prints, rather than scary shoulder pads and bad highlights. You can get as stuck in as you fancy without an entire wardrobe overhaul, and the easiest way to nod to the trend is with your shoes and accessories. Nothing would suit all of our favourites better than some skinny jeans and a simple jumper...though do feel free to make those jeans stonewashed and find a logo sweater that says 'Let's Get Physical'....



Lady in Red Everything about the Eighties was totally unapologetic, and nowhere was this more obvious than in the vibrant colours used in the fashion of the decade. Scarlet red, cobalt blue, cerise pink - the key is to always look for the brightest most in-your-face shade of whatever colour you opt for.

Pixie woo-hoo! The 21st Century pixie boot is a step up from its Eighties counterpart, with a higher, chunkier heel and delicate, feminine frill at the ankle. For an up-to-date look, pair with a calf-length pencil skirt and simple white tee.

It's a jungle out there While leopard print was popular in the Eighties, it's become such a staple of all of our wardrobes in the last decade that sits with your white sneakers and black ankle boots as an absolute essential. Zebra though? Zebra is the new leopard, and it's SO Eighties it hurts.
Shop Heels