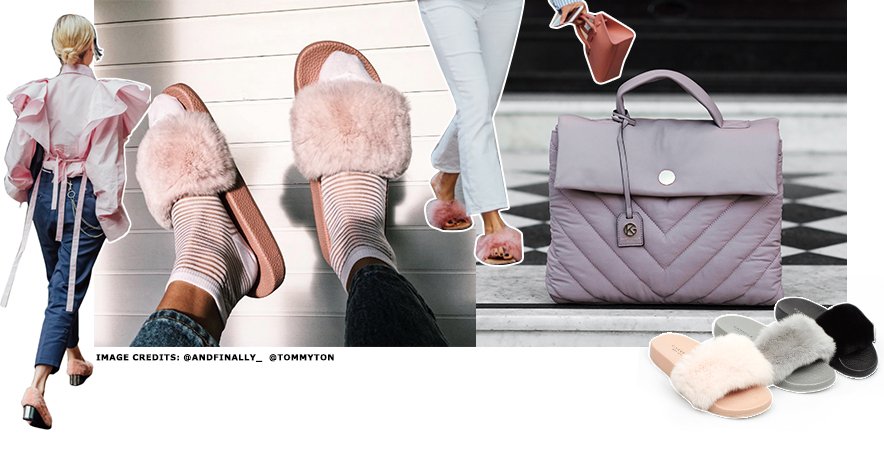 "What on earth is Swinter?" you may well be scratching your heads and asking right now. Well, it's got nothing to do with the weather in Game of Thrones or Jon Snow...rather it's the art of dressing for summer but with wintery fabrics (summer + winter. Get it?!), and it's never been so popular when it comes to accessories as right now. Hands up who else has been hankering after a pair of furry pool slides recently?

The very best thing about Swinter dressing though, is that it makes you feel snuggly and warm, but you can still get excited about the fact that summer is just around the corner. And when you live in a country where the summer weather really can't be guaranteed, that's got to be a good thing, right? Not only that, but these are the items you can wear year-round, particularly in spring's thoroughly unpredictable in between weather, so they make a really great investment. Here are our top tips for the ultimate in Swinter style.

It's all in the fabrics
Look for sandals made from heavy tweeds, faux fur and shearling, or woolly felt. They can be heeled or flat, but for the most on-trend look, it has to be pool slides. Wear them with thick ribbed socks and jeans until the temperature rises (unless you have toes of steel!), then pair with skirts and shorts come summer. Because the warm fabric is on top of your feet, you won't get too hot when the sun comes out.

Puff daddy
We all know that quilted fabrics are great for coats and jackets, but they're perfect for bags, too. As well as looking super cool, they're practical and lightweight, and double as a snuggle at the bus stop when you're feeling the chill. Opt for sugary pastel shades for a look that's bang up-to-date, like the Lambskin Britt Tote .

Extend Swinter to the rest of your wardrobe
It's not just accessories that are getting the Swinter treatment; you can apply the rule to the rest of your outfit too. Skirts in heavy fabrics like suede, knitted T-shirts and culottes all fall into the Swinter category, and by some brilliant stroke of luck, all look fantastic with your Swinter accessories. Bonus!
Shop Slippers & Sliders