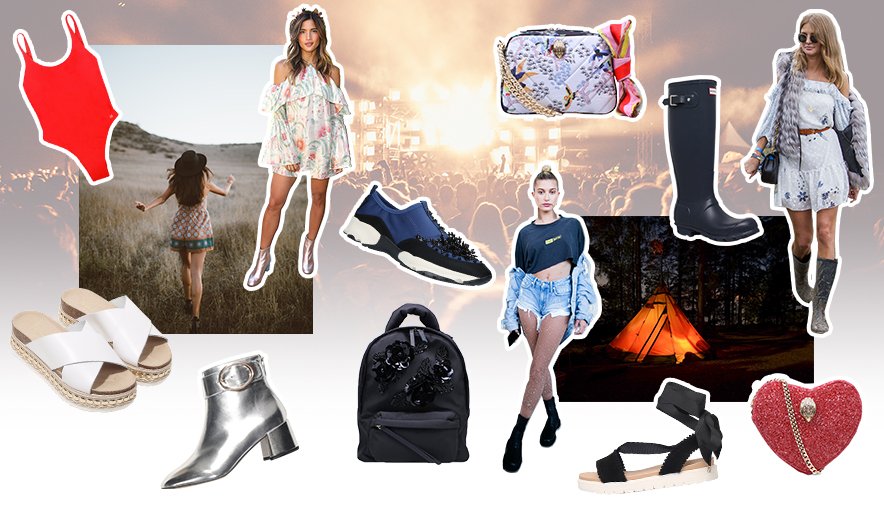 Festival dressing should be easy. You're away, surrounded by friends, listening to your favourite bands and just generally having a blast. Your outfit should, in theory, be the last thing on your mind. But 'festival fashion' has now become such a thing, that even the most devoted, all-or-nothing festival-goers are bound to give at least some thought to their weekend wardrobe. Whether you favour a bohemian look, complete with flower garland and face glitter or you're more a denim on leather kind of girl, your accessories are key.


With The Band

Think Kate Moss circa 2005. The mud-spattered thighs, perfectly imperfect locks and the very teeniest of non-existent hot pants. This girl lives for Glasto. She's all about the music and isn't afraid to get down and dirty in the mosh pit (provided she looks good whilst doing it). Hunter wellies are the official uniform for this chick. She'll be wearing them with denim cut-offs if the sun's blazing, and leather trousers if it pours. she won't be needing a second pair of kicks because when it comes to festival dressing, wellies go with everything – the more beaten up and battered the better. She'll be needing a hands-free bag, too. One to sling over a shoulder, in which to cart the essentials. Kurt Geiger London's 'Leather mini Kensington' or 'Glitter Heart Crossbody' both have rock n' roll written all over them.

The Glamper

Gone are the days when you could only really embrace a festival if you were willing to do your business in the nearest bush, go without a phone for three days and leave all toiletries at home. Festivals are now positively flooded with girls who've worked out how to bring the glamour. Metallic ankle boots are a good place to start. KG Kurt Geiger's 'Dilly' boots in silver provide enough coverage so as to keep that pedicure intact, plus a bit of height (although not so much that she can't tackle a muddy field by night). For your handbag you'll need the 'Fabric Plum' cross body; roomy enough for a portable phone charger, anti-bacterial hand wash and compact mirror. And this girl will be damned if she misses an opportunity to catch some rays. You'll find her on a deck chair at 8am, clad in Kurt Geiger London's high leg Swimsuit and a pair of shades while everyone else is staggering around trying to remember where they pitched their tent.

Free Spirit

Festival season is the highlight of this girl's year. She's been counting down the days until she can see her favourite artist headline, and she'll want to be comfortable while casually crowd surfing the main stage. It's all about working the athleisure trend here. Footwear-wise, it's sneakers. Specifically slip-ons for ease. Carvela's 'Lola' trainers or Miss KG's 'Leon' numbers will do just fine, perfect with either of the two t-shirts and single pair of shorts she brought with her in Kurt Geiger London's 'Nylon backpack'. She's the girl who woke up looking like Alexa Chung and doesn't even know it. Us? Jealous? Never!


Shop Cross Body Bags