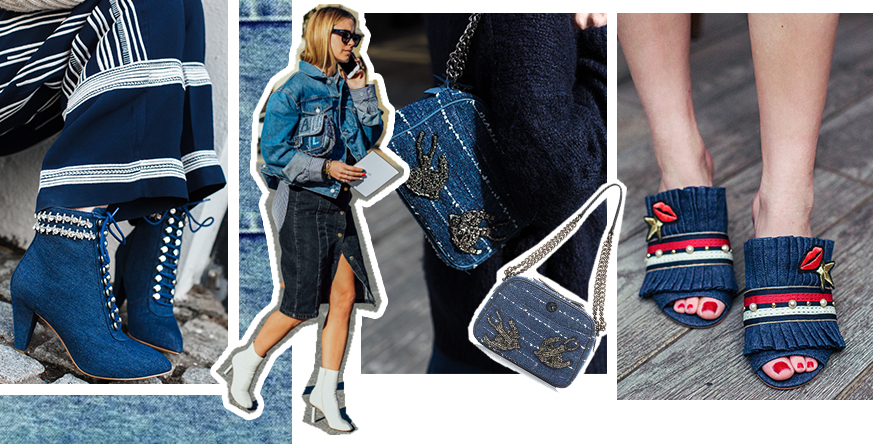 Never a season goes by when denim isn't in fashion. Because really, where would we be without it? Denim looks good on everyone, goes with absolutely everything (including more denim) and has an enduring association with looking cool. Since its inception in the 19th Century, the world hasn't been able to get enough of anything jeans related, and for SS17, it has made its way into the world of accessories. Big time.

OK, so we've seen indigo blue on shoes and bags before, but this season it's different. It's bigger and better and blingier, because this season, it comes with embellishment. Whether it's jewels and pearls, or patches reminiscent of Woodstock and The Summer of Love, your denim accessories come with something a little bit extra. The best bit? There are no rules when it comes to style, so you can totally wear it your way.

The Regal Touch
There's something about these 'Rapider' pixie boots that makes us think of Marie Antoinette; it must be those jewels - a huge trend for SS17 and one that will make any outfit look extra special. Rather than a huge 18th Century dress and a white wig though, we'd recommend pairing yours with a pair of silk striped trousers for 21st Century cool.

Patch-Tastic
Patches and badges were all over the catwalks this season and the very best way to wear them is on denim. Even better, on denim accessories, like these fantastic 'Mistress' mules. The wooden block heel means they're comfortable and chic, especially when worn with classy culottes. Perfect for taking you through from day to night.

Bag It Up
Your blue jeans have made it onto bags this summer, and how perfect is this 'Denim Tweed Crossbody'? Not too big, not too small - ideal for everything you need and, as with all things denim, goes with everything. We love the Parisian-style chain handle and oh-so-this-season bird bling embellishment. A bag this good is just too good to be limited to daywear; try teaming it with a little black dress and heels for a new spin on your most classic outfit.
Shop New Arrivals