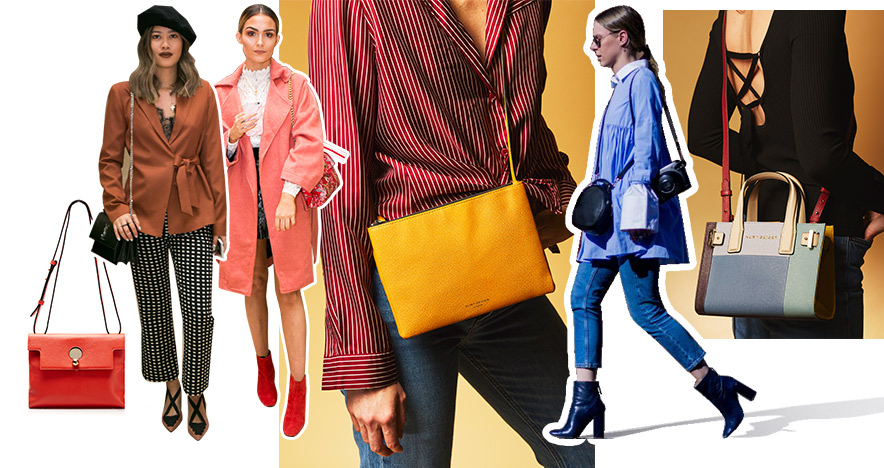 Hands up who else fills their bag RIGHT up with stuff every day, regardless of whether or not you really need your entire makeup collection, a spare pair of shoes (or three), four umbrellas and, err, the kitchen sink. It doesn't matter that realistically you only need your wallet, diary, phone and lip balm: if it fits, it's going in. Because you know, you never know…

Thankfully, the days of capacious "it" bags are gone; those massive totes that could easily double as an overnight bag have been superseded by the far more chic, not to mention MUCH smaller, cross body bag. Cross bodies tend to be simpler in design with less heavy hardware - like you need any extra weight to lug about in addition to all your stuff, right?! - which is great news for your back and your wallet, less so for your chiropractor.

Anyway, what's so great about the cross body? Well firstly, while not being huge, they're certainly big enough to fit in all your essentials, and yes, that includes an umbrella. There's something about the way you wear them that just looks cool, particularly when teamed with casual trousers, trainers and a tailored coat. And of course, the cross-body strap means you're totally hands free, and therefore much better equipped to deal with general life stuff while you're on the move, like drinking a coffee or getting a great Boomerang for Instagram stories. And we know how important that stuff is to you, guys! Here are our favourite ways to wear them.

Less is more Try a really minimal bag with no buckles and one single skinny strap in a soft shade of cornflower blue or daffodil yellow (NB: all this season's hottest colours are named after flowers).

Add a pop of colour Tomato red is a huge trend this season (or should we call it geranium? See above), and a bag in this shade is a brilliant way to pep up an otherwise ordinary outfit, like your fav grey sweatshirt and jeans.

Go multi-functional Of course, you're still going to be tempted to overfill, regardless of your bag size, but if you really need all the stuff, go for a cross body that also has tote handles, so that when your shoulders really can't take it anymore, you can change the way you're carrying the bag. Genius.
Shop Cross Body Bags