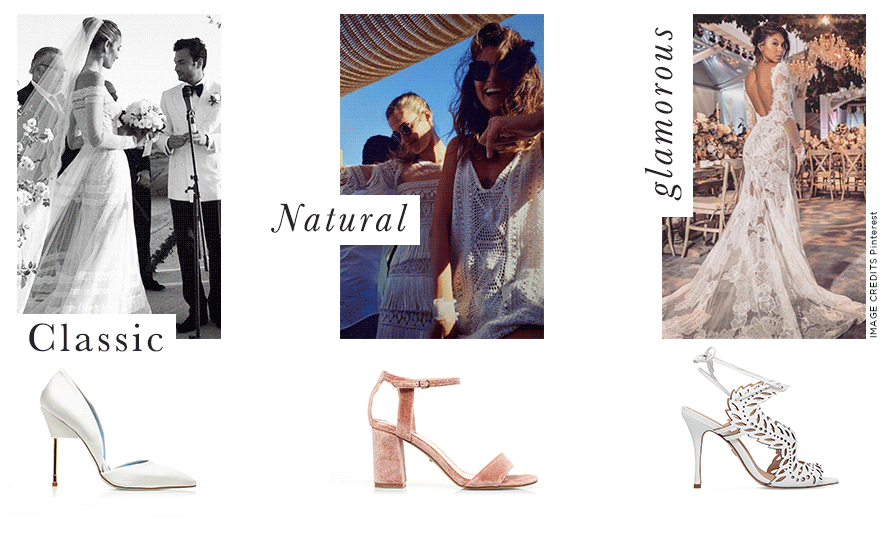 You've probably been dreaming of your wedding dress since you were nine years old, but have you given enough thought to the shoes you're going to wear on your big day? Well, we're here to help with our handy quiz! You're welcome.

You're going for a night out with the girls. Do you...


A. Start a WhatsApp group to find out what everyone else is wearing. There's nothing worse than being the undressed one.
B. Not give your outfit any thought. Because nothing's ever going to look better than your fail safe LBD, and you have four to choose from.
C. You're so excited about a night out with the girls that you suggest everyone comes to yours to get ready. They can help you decide what to wear.
You've just joined a new gym. Do you…
A. Invest in some snazzy fitness gear, and trawl the internet using search terms such as "best spinning hairstyles" and "make-up that really does stay put in the gym"
B. Turn up in your trusty black vest and leggings and those trainers that you're glad you put all the research into before you bought them three years ago. They really were a great investment!
C. No sorry, there's been a mistake. You don't waste money on gym memberships. You're too busy running in the park and teaching Pilates.
Thinking back to your first date with your husband-to-be, were you wearing…
A. A fierce cami, killer jeans and suede ankle boots.
B. One of your LBDs, obviously!
C. You didn't go on a first date, you've known each other since you were 12.
It's the first day of your beach holiday. Do you…
A. Spend the first hour deciding which of your eight bikinis you're going to wear first.
B. Slip straight into your red one-piece and get stuck into your book poolside in the shade. You don't want to burn on day 1.
C. Grab a green juice, research the local historical places of interest, and finish the day with sunset yoga.
Mostly A's - the glamorous bride
You never leave the house without perfect make-up and hair, and even your jeans and T-shirt looks are dressed up with at least a block heel
ankle boot
. Your wedding outfit is all about the shoes; you'll probably buy at least three pairs so you have a choice on the day (oh maybe you'll change and wear all of them) and they'll be feminine, fabulous and to die for.
Mostly B's - the classic bride
You're one of those girls who's really confident in her own style. You know what you look great in, and your head doesn't get turned by trends and fads. You want
wedding shoes
that will still looks stylish when you look back on your photos in twenty years. Oh, and they'll be really comfortable, too.
Mostly C's - the natural bride
As your wedding's taking place on the beach, your ideal wedding shoes are flat and practical. But that doesn't mean they're not beautiful - you'll be opting for some
fancy sandals
that you'll wear again on your honeymoon and beyond.
Shop Bridal